Jenni from the Block

Written by Ann on 2013 in the Dutch version from PSP 11
Update - Jille april 2020 in PSP version 2020
Material download here
Place the selections, mask, image frame, motif and texture in their respective folders.
Double click on the font, it will automatically be installed in the appropriate folder.
Filters
Filters unlimited 2.0
Texture
Texturizer Plus
Save Texturizer plus in a folder of your choice , this document contains extra textures for the Texture plugin
Preparation
Foreground color = #6f655a
background color= #f0ecdc.

Lesson
Open - New - 640-480- wit


Effects - texture effects - texture (Corel_15_017.bmp) background color


Layers - new raster layer
Fill layer with background color
Layers - Load/Save mask - Load mask from disk and choose Corel _07_005


Layers - Merge - Merge group
Effects - Edge effects - Enhance
Activate Magic tool wand- Tolerance and feather= 0
Select the circle (left mouse button in the middle)
Selections - Modify - expand 4 pixels
Selections - Modify - Blur (feather) - 15 pixels


Press 2x the delete button from your keyboard
Selections - Deselect all
Activate the Image Jenni.jpeg
Image - Picture Frame - with these settings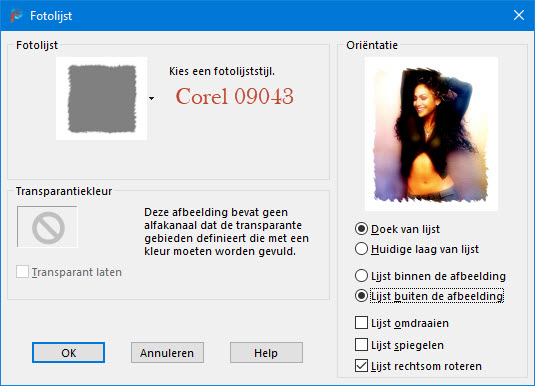 Image - Add borders - symmetric checked - 1 pixel foreground color #6f655a


Edit - Copy
Back to your work- Edit - Paste as new layer

Image - Resize - 85% with these settings


Effects -3D Effects - Drop Shadow


Repeat with vertical en horizontal minus 10
Layers - Merge - merge visibly.
Effects - Plugins - Filters Unlimited 2.0 - Alph's Border FX - Border Film, with these settings


Image - Add borders - symmetric not checked - Foreground color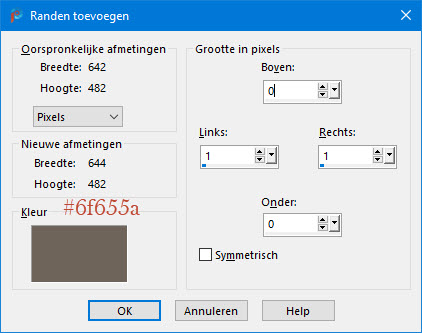 Edit - Copy - minimize
Part two
File - New: Open new Image 900-480 pixels: WIT
Foreground color = pattern Corel_08_062.jpeg


with these settings


Fill the layer with this pattern
Effects - Edge Effects - enhance
Layers - New raster layer
Fill with background color # f0ecdc
Layer palette - Opacity +/-81
Layers - Merge - visible
Edit - Paste as new layer (Image still in memory)
Layers - New raster layer
Selections - Load/Save selections - Load selections from disk search and load the selection @ nn_sel001_jenny_TD


Material - Foreground color back to color 6f655a
Fill selection with Foreground color
Selections - Deselect all
Layer palette - Opacity 16%

Image - duplicate
Image - mirror horizontal
Image - mirror flip
Layers -new raster layer
Selections - Load/Save selections - Load selections from disk search and load the selection: @ nn_sel002_jenny
Fill selection with Foreground color # 6f655a.
Effects> Plugins> Texture - Texturizer:
Open texture menu by clicking on the arrow next to the box and selecting Texture
Select the folder in which you store the Texturizer Plus document and select JC_013.psd -
go back to screen, see settings below:


Layer palette - Opacity = 51%.
Select - Deselect all

Activate @nn_accent_jennyfromtheblock - Edit> Copy.
Back to your work - Edit - Paste as new layer.
Layers - Merge - Merge all layers (flatten).

Activate @nn_plateau - Edit - Copy.
Back to your work - Edit - Paste as new layer.
Move see example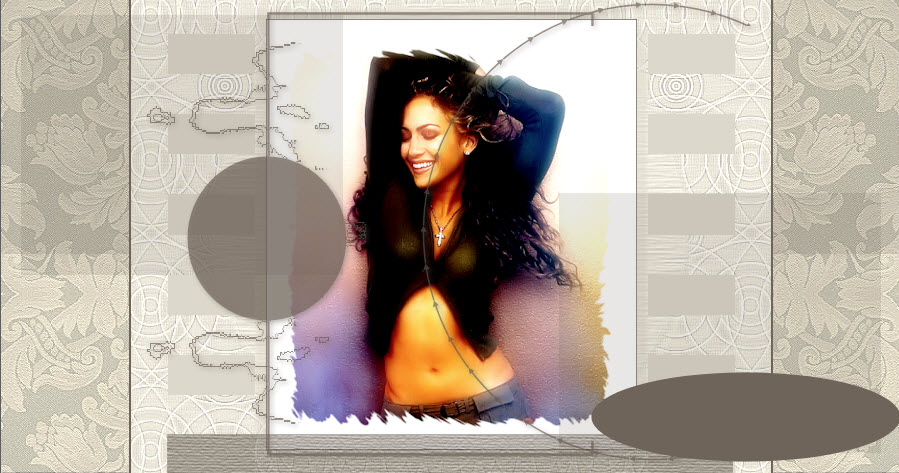 Effects - 3d Effects - Drop Shadow


Activate tube bootssmall -Edit> Copy.
Back to your work -- Edit - Paste as new layer.
Move the boots to the middle of the platform
Effects - 3D-Effects - Drop Shadow, with these settings:


Layers - Merge - merge all layers (flatten)
Effects - Plugins - Filters Unlimited 2.0 - Button and frames - Rectangular button,
with these settings: 2 / 117 / 40 Outline checked

Tex: Close background color - Foreground color stays the same #6f655a


Write your text
Layer palette : Promote to rasterlayer
Effects - 3D Effects


Place the text on the bottom


Layers Merge - merge all layers (flatten
Place your name or watermark and save as a jpeg file

Example Jille tubes from Riet and Sharlimar