Autumn
This lesson was written by Jille on Sunday, November 08, 2009 in the English version of PSP XII.
This tutorial can be made in earlier versions as well.
Any resemblance with an existing lesson is merely a coincidence.
Supplies
The materiel belongs to the Winni-Challenge-2-Write-Group and can be downloaded here
It contains: 3 tubes and an image
RR_EK_FallCluster_01.png
SN-Autumn-is-here-WordArt.pspimage
sp~pumpkinwapples.tub
sunflowers.jpg
Thanks for the lovely material, this image would not exists without it.
Filters
Toadies (Posterize)
You can install this filter in your filter map, or import the filter in <I.C.Net Software > Filters Unlimited 2.0.
Virtual Painter 4
AAA Frames (Foto Frame)
Preparation
Download the filters and place them in your map
Note: If you want to import Toadies into Filters Unlimited you will have to open your program first, but don't forget to install the other filters before opening the program, otherwise you won't see them.
Open your PSP program
Open the tubes and the image in your program and minimize them
Choose a dark color for the foreground, I took #675414 and a lighter one for the background, I took #c9b464
Change the material of the foreground into a rectangular FG-BG gradient with these settings

The lesson
Step 1
File – New - New Image – Transparent checked
Activate the Flood Fill Tool – flood fill the image with the gradient
Effects – Plugins – Toadies – Posterize with standard settings
Or
Effects – Plugins – <I.C.Net Software > Filters Unlimited 2.0 - Toadies – Posterize with standard settings
Step 2
Maximize the image sunflowers.jpg
Window – Duplicate – Close the original and proceed with the copy.
Effects – Image Effects – Seamless Tiling – standard settings
Materials: Change the material of the foreground into pattern
Choose the seamless pattern you just made

Note: You can easily switch between solid color, gradient or pattern by clicking on the little icons in the material palette.

Minimize the image, but do not close
Step 3
Back to our working area
Layers – New Raster layer
Activate the Flood Fill Tool and flood fill the layer with the pattern
Layer Palette – Lower the opacity of the layer to 17
Layers – Merge – Merge Visible
Image – Add Borders – Symmetric checked – 1 pixel color black (#000000)
Edit – Copy
You may close without saving. ( which is of course is a very unsafe way of working – I always leave the image minimized on my work space ).
Step 4
Materials: Change the material of the foreground into gradient
File – New – New image – Transparent checked

Activate the Flood Fill Tool and flood fill the image with the gradient
Step 5
Effects – Plugins – Virtual Painter – Virtual Painter 4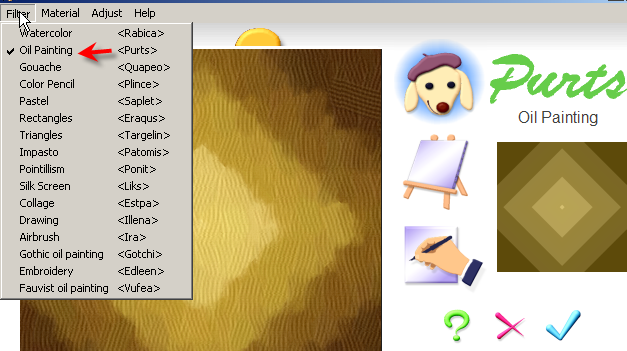 click OK
Edit – Paste as New Layer
Effects – Image Effects – Seamless Tiling with these settings

Activate the Move Tool – move a little to the left – see example

Effects - 3D Effects – Drop Shadow
and repeat this drop shadow with Offset Vertical and Horizontal on -10 and -30
Step 6
Maximize the image sp~pumpkinwapples.pspimage
Edit – Copy
You may close this image
On our working area
Edit – Paste as New Layer
Activate your Move Tool and place it as shown below
Step 7
Maximize the image SN-Autumn-is-here-WordArt
Window – Duplicate – close the original and proceed with the copy
Close the bottom and the top layer (logo and background layer)
Highlight a visible layer
Layers – Merge – Merge Visible
Edit – Copy
You may close without saving
Step 8
On your working area
Edit – Paste as New Layer
With the Move Tool – move it as shown on the example below
Step 9
Maximize the image RR_EK_FallCluster_01
Window – Duplicate – close the original and proceed with the copy
Image - Resize

Adjust – Sharpness - Sharpen
Edit - Copy
You may close without saving
Step 10
On your working area
Edit – Paste as New Layer
With the Move Tool – move to the right – see example

Effects – 3D Effects – Drop Shadow

Layers – Merge – Merge Visible
Step 11
Effects – Image Effects – Page Curl - color #feae20

This is the result

Layers – New Raster layer
Materials: switch the gradient into the pattern by clicking on the third icon

Activate the Flood Fill tool and flood fill the new layer with the pattern
Layers – Arrange – Send to Bottom
Layers – Merge – Merge Visible
Step 12
Effects – Plugins – AAA Frames – Foto Frame

Add your watermark
Layers – Merge – Merge All(Flatten)
Resize if you want to
File – Save As – give_it_a_name.jpg
So we are done
I hope you enjoyed this lesson
Hugs
Jille